Transform your smile with porcelain veneers provided by Dr. Fakhimi
There are a plethora of general and cosmetic dentistry clinics in La Jolla, California, but not all of them have the specialty to eliminate your dental worries. If you are facing low confidence because your smile gets distorted by misshapen or irregular teeth, then look no further than Dr. Fakhimi, who founded Soft Touch Dental, the provider of specialized general and cosmetic dentistry treatments in La Jolla.
They are one of the many treatments under the umbrella of cosmetic dentistry that Dr. Fakhimi and his team specialize in. Many patients consider he is the best at porcelain veneers San Diego has to offer. If you are wondering what they are, then here's all you need to know:
What are porcelain veneers?
Dental veneers are ultra-thin, contact lens-type films made of porcelain that are customized to fit over teeth of people, providing a natural, appealing look. Although considered a little brittle compared to their resin counterparts, porcelain veneers bind firmly to the tooth and become durable over time.
One of the most noteworthy characteristics of porcelain veneers is that they mimic the appearance of a natural tooth. At the same time, the procedure to place a veneer on a tooth requires less enamel extraction. Since they don't stain so easily, you can expect to have a cleaner and brighter smile for a long time after the procedure.
What is involved in the procedure to get porcelain veneers?
The procedure to place a porcelain veneer on the affected tooth is simpler than most people think. Dr. Fakhimi and his team at Soft Touch Dental are well-equipped to first conduct a thorough evaluation of your dental health. He will make sure that the veneers match the color of your existing tooth to preserve the natural look.
With the help of accurate tooth impressions, Dr. Fakhimi is able to design porcelain veneers with utmost precision. After preparing and contouring your tooth, he will place the veneer on your tooth and bind it firmly to it. Once the procedure is complete, the veneer will seamlessly blend with your smile and enhance it.
Why get porcelain veneers?
Smiling faces always exude positivity. Everyone likes to see faces that have a bright smile, especially when the person's teeth are clean and sparkling. It sets an impression about your personal hygiene and habits.
Sadly, some people have crooked, stained or irregular teeth that can be a major reason behind their embarrassment and low confidence. They often refrain from smiling because they fear being judged by others. It's common for such people to feel uneasy in social situations and incapable of fully relishing life.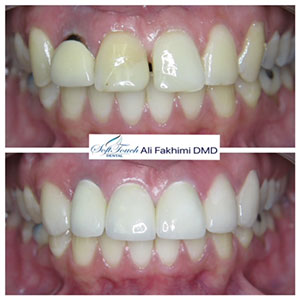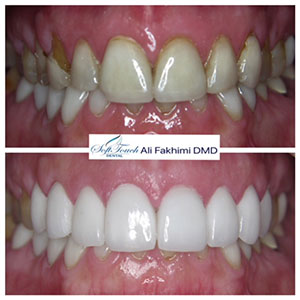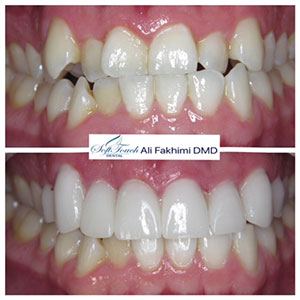 What do veneers help with?
Porcelain veneers come as a godsend for people suffering from this. Dr. Fakhimi at Soft Touch Dental recommends porcelain veneers to treat the following conditions:
Cracked or chipped teeth
Worn-out teeth
Misshapen teeth
Unwanted gaps between teeth
Teeth that are permanently stained
Overly small or overly large teeth
Whenever you feel your confidence going down because of misalignment in your teeth, you should consider Dr. Fakhimi's porcelain veneers. This tooth restoration treatment can be a life-long solution to your smile and bite defects in your teeth, provided you care for them as instructed by Dr. Fakhimi.
What are the advantages of porcelain veneers?
The oral restorative treatment provided by Dr. Fakhimi at Soft Touch Dental offers the following benefits:
Porcelain veneers are biodegradable in nature, making them an eco-friendly tooth restoration treatment.
Designing and placing a porcelain veneer requires patients to make only a few visits to the clinic, thereby saving their valuable time.
The appearance of the film resembles that of a natural tooth, thereby blending beautifully with the smile.
The natural structure of the tooth is preserved as not much alteration is required in most cases.
The positive results achieved after getting a porcelain implant are irreversible.
How long porcelain veneers last?
The porcelain veneers provided by Dr. Fakhimi are capable of withstanding staining, chipping, and pressures from aggressive biting movements. If proper care is taken, porcelain veneers can last a lifetime.
Dr. Fakhimi will recommend a proper routine for maintaining dental hygiene after placing a porcelain veneer on your tooth or teeth. Brushing and flossing daily before going to bed and attending regular dental checkups can maintain your porcelain veneer for years.
How much do porcelain veneers cost?
The cost of getting porcelain veneers in San Diego can vary greatly, based on additional procedures that Dr. Fakhimi may have to perform. Since he provides custom-made veneers that last for years, you will not have to worry about frequent treatments that drain your bank account. You can get in touch with Dr. Fakhimi's team to know more about the cost.
You can get in touch with Dr. Fakhimi's team to know more about the cost. He offers specials for as low as $999 with a minimum of 6 veneers. See more of the specials here.
Veneers FAQ
When you smile, the whole world smiles with you – or so the saying goes. What if your smile is not as attractive as you want? Chipped or damaged teeth or wide gaps can make you feel self-conscious. Veneers from Soft Touch Dental can help you have a smile you will want to share with the world.
Why choose Dr. Fakhimi for your veneers?
Cosmetic dentistry services offered by Dr. Fakhimi at Soft Touch Dental have brought about a massive transformation in the way people feel about their smile. Hundreds of people trust Dr. Fakhimi and his solutions because of the following reasons:
Personalized dental care
At Soft Touch Dental, Dr. Fakhimi adopts a personalized approach to evaluating patients and formulating a treatment plan suitable for them. He will recommend solutions that suit your tooth and give you the desired results.
Prompt services
Dr. Fakhimi ensures that all his patients get the satisfaction they desire. Soft Touch Dental has a well-established customer service system that caters to patients' both emergency and non-emergency needs in no time.
Advanced techniques
You can expect Dr. Fakhimi to design your porcelain veneer with the utmost precision. He has state-of-the-art technology in his facility in La Jolla that creates veneers that suit your oral anatomy. This is the reason why so many people praise his expertise in smile enhancement procedures.
Veneers vs. Implants
Choosing between dental implants and porcelain dental veneers both have pros and cons. You may be a better candidate for one rather than the other.
Schedule an appointment with Dr. Fakhimi today!
With Dr. Fakhimi's porcelain veneer treatment, you are sure to transform your smile and boost your self-confidence in social situations. You will love the stress-free and inviting atmosphere that he creates to make anxious patients feel at ease.
If you want an appointment, you can call his clinic at 858-274-8200 or schedule a consult here. Dr. Fakhimi would be more than happy to help you.